Explore Puripunn & Chiang Mai
A Place Where Ordinary Becomes Charm
Puripunn Hideaway is a boutique, intimate small luxury hotel with a total of 30 rooms, constructed in a contemporary Lanna-Oriental architectural style inspired by traditional homes found in Chiang Mai during the colonial period. The hotel is situated in the midst of one of Chiang Mai's centuries-old communities where ancient Lanna treasures, cultural traditions and way of life have been well-preserved.
Thailand's Far North is situated at one of the most important historical crossroads of northern South-East Asia, a mountain-meets-rivers nexus where peoples from the ancient Chinese empire and the tribal peoples of a geographic area that is today, Thailand, Laos and Myanmar traded goods and fused cultures for centuries.
Once an important stopover along mule caravan routes between ancient Chinese Empire and the coast of Burma (Myanmar), the kingdom of Lan Na Thai — literally 'Million Rice Fields', was established when local Thai princes rose to prominence in the region in the 13th century.
Chiang Mai was founded as the new capital of the ancient Lanna Thai kingdom, which included the provinces of Chiang Rai, Nan, Chiang Mai, Phayao, Phra, Lampang and Lampoon in present-day Northern Thailand. Lanna Thai influence reached as far as the Shan States in Burma, Sipsongpanna in China and Lan Xang (Lao PDR). The Lanna kingdom was incorporated into the Kingdom of Siam by treaty approximately 100 years ago.
Noted for its cultural splendor and rich history, Lanna Thai heritage continues to fascinate connoisseurs of Southeast Asian art.
As descendants of this spellbinding Northern Thai kingdom, it is with great pride and pleasure that we share with you, the many charming traditions and enchanting aspects of Lanna Thai culture during your stay with us at Puripunn — which literally means we share our home-town with you. The word 'Puri' comes from the word 'buri' which means town or city and 'punn' means to share.
Puripunn's Destination Highlight: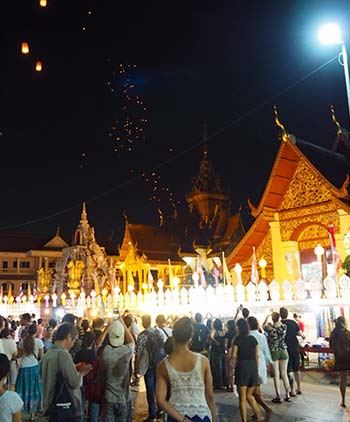 Local Landmark
Puripunn Hideaway is located in a midst of quiet area known to Chiang Mai heritage zone by the name of the local temple, Wat Gate, located on the east bank of Chiang Mai's Ping River. It is only minutes away from the city's famed attractions such as Night Bazaar, famous pubs, bars & restaurants and century-old Chinese shophouses by the Ping River, China Town, Warorot Market, Flower Market, and the Old City Wall where the Sunday Market take place. (Thapae Gate).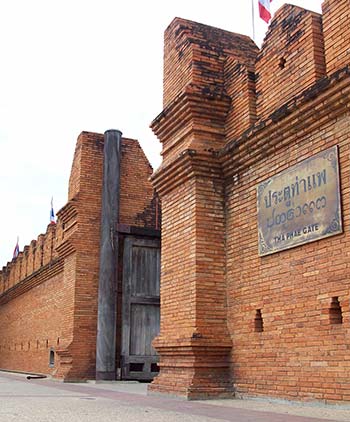 Chiang Mai Old City and Nearby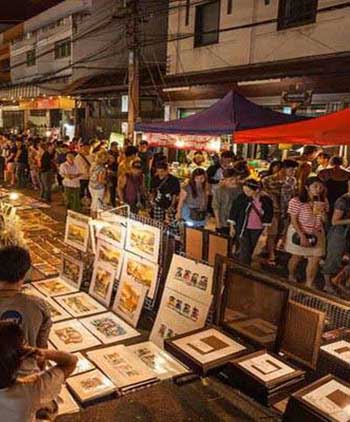 Sunday Market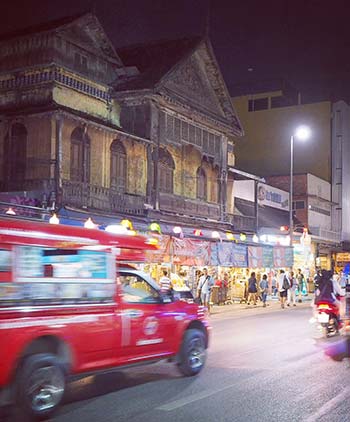 Shopping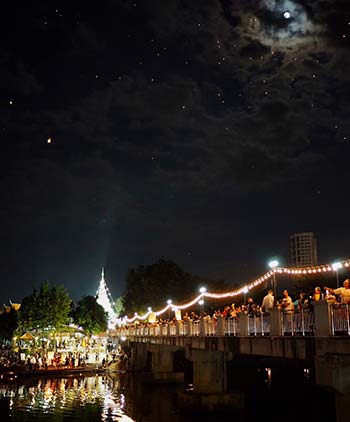 Nightlife
Chiang Mai is a city to be explored by foot, Puripunn's location strategically allows people to truly explore a charming of the city characters.